Vegan Sweet Potato Burritos
Looking for a quick, healthy, delicious meal with a little bit of spice? Try these vegan sweet potato burritos. View recipe here.

Chelsea Groton Bank Employees Recognized
Chelsea Groton recently recognized eight employees for outstanding contributions to the Bank and community. Fifteen members of the Chelsea Groton team were also presented with diplomas, certifications and awards for excellence in completing continual education courses. Read more.
Community Connection
In honor of Memorial Day, all Chelsea Groton Bank locations will be closed on Monday, May 29. Our Customer Care Center will remain open and can be reached by calling 860-448-4200.
This Memorial Day weekend, be sure to check out this article from U.S. News & World Report, entitled "Put Memorializing Back in Memorial Day". We remember and thank all who have made the ultimate sacrifice.

Community Events
Join us for the following community events. Visit chelseagroton.com for more information.

CT Family Fest: June 3, 10 am-4 pm, at New London Waterfront, City Pier, New London
Attend this daylong celebration of art, music, storytelling, boating and the environment on the beautiful New London waterfront.

Taste of Mystic: June 9, 5 pm-10 pm; June 10, 11 am-10 pm; June 11, 11 am-5 pm, at Olde Mistick Village, 27 Coogan Blvd., Mystic
Sample items from the area's best restaurants, socialize with friends and family, and dance and enjoy a wide range of the area's best live bands. Entrance is free. Tickets for food and beverages are $1 each.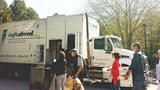 Shred Day: June 24, 10 am-1 pm, at Groton Public Library, 52 Newtown Rd., Groton
Bring up to three file size boxes of confidential, personal and business documents for complimentary shredding, to help prevent identity theft.