Racing to Success: Our Lending Story with Callaway Cars
Callaway Cars, Inc. was founded in 1976, and in the mid-1980s, GM asked Callaway to use their patented turbocharge technology to build Turbocharged Corvettes. A few years ago, the company came to Chelsea Groton looking for a local banking partner who would be understanding of the nature of the business, and could support their changing needs.
> Read More


News You Can Use: Cyber Security Event & Upcoming Business After Hours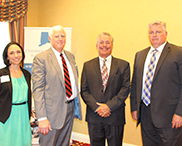 In June, we partnered with the Eastern CT Chamber of Commerce to host a Cyber Security presentation. Chelsea Groton Bank President & CEO Michael Rauh, Arthur House, Chief Cyber Security Officer for the State of CT, and Brian McCabe, US Secret Service Cybersecurity Task Force, discussed the ongoing threat of cyber crime and how business owners can best protect their places of business. In October, Chelsea Groton will again be partnering with the Eastern CT Chamber, this time as host of Business After Hours on October 3. We'll be holding the event at our reinvented Center Groton branch, 1319 Gold Star Highway. The event begins at 5:30 pm, but stop in at 5 pm for a free mini-workshop on Mastering Networking. Register here.


Benefits of Business Banking: Access to Fraud Protection Services
Are you looking for ways to protect your business account and increase efficiency? Chelsea Groton Bank offers Positive Pay, an automated fraud detection solution with built in Account Reconciliation. > Learn More
Small Business Corner: Attend the BBB's Business Summit
On October 17, the Better Business Bureau is hosting a Business Summit in Cromwell, CT to teach current and aspiring small business owners how to run financially healthy businesses, be better leaders, discuss recruitment strategies, and provide marketing tips. Check out this video to learn more about the event, how to register and to receive a promo code for a discounted ticket. #BBS18
Meet Jay McGuinness, VP, Commercial Loan Officer
Jay McGuinness recently joined Chelsea Groton Bank as Vice President, Commercial Loan Officer – Glastonbury. He is based at the Bank's Lending Center in Glastonbury, and will work to develop commercial loan and commercial mortgage relationships with centers of influence in the Greater Hartford and Greater New Haven market areas.
> Get to know Jay.