4 Ways to Welcome Spring!
Winter seemed as though it would never end this year, but when I see cherry trees, daffodils and tulips popping into bloom and the return of robins and red-winged blackbirds, I'm excited to get outdoors to search out the local treasures that were buried under a blanket of snow for months. My first stops are... Read more>>

A Thyme to Cook's Scallop Crudo
Delightfully elegant and incredibly easy to prepare, sample this recipe for fresh, sweet scallops featuring some of our coast's best local shellfish. Read more>>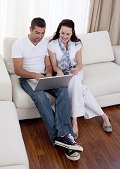 Fight Identity Theft by Regularly Monitoring
and Reviewing Your Credit Report
The Fair Credit Reporting Act (FCRA) requires each of the nationwide consumer reporting companies — Equifax, Experian, and TransUnion — to provide you with a free copy of your credit report, at your request, once every 12 months... Read more>>
Chelsea Community Connection: 2013 Was an Excellent Year for Chelsea Groton
Chelsea Groton Bank held its 159th annual meeting of Bank officers, Board members and Corporators on Thursday, April 17, 2014 at the Mystic Marriott in Groton, Connecticut. Before the gathering, President and CEO Michael Rauh reported on the Bank's 2013 financial results and plans for the future. He noted that 2013 was an excellent year for the Bank, with strong financial performance resulting from core deposit growth, the second best year in loan originations and a new record for financial services revenue. The Bank also saw significant declines in non-performing loans while keeping operating expenses in check, resulting in increased net income of 17%. As of December 31, 2013, total assets for the Bank were $932 Million, an increase of 5.5% over the previous year.

"Not only is our Bank experiencing strong growth today, but looking forward, we are laying the groundwork for continued success in the years to come", remarked President and CEO Michael Rauh. "Represented in the growth we've experienced are thousands of human-interest stories where plans and goals were realized using safe and secure banking practices with the help and support of our kind and experienced employees." When asked about what's on the horizon for Chelsea Groton, Rauh remarked, "2014 marks the 160th anniversary of Chelsea Groton's founding. We're even more committed to customer and community prosperity; it's why we exist, so our continued investments will help the communities we serve for the next 160 years."