Community Connection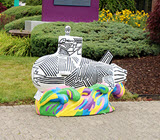 Chelsea Groton Bank is Part of the CT Sub Trail!
Chelsea Groton Bank is a sponsor of the CT Sub Trail, a public art project created in conjunction with Connecticut's Submarine Century, which is celebrating the 100th anniversary of the Naval Submarine Base. Designed by Sophie Heublein, a sophomore at St. Bernard High School, Chelsea Groton's sub sculpture is called "Nature vs. Machine" and is now on display outside of our Groton location at 904 Poquonnock Road. Download the app today for more info on each of the subs and their locations.

10th Annual Fish Tales, Tugs and Sails on July 23 from 10 a.m. – 4 p.m. in New London Waterfront Park
Chelsea Groton Bank is a sponsor of this free, nautically-themed festival celebrating literature and the environment. Special guests and performers will arrive by tugboat. Community readers, live performances, hands-on activities, big boats, sea critter touch tanks and much more will entertain the whole family!

Movie Nights on Wednesday Evenings at Hygienic Art Park in New London
Chelsea Groton Bank is sponsoring Hygienic Art Park's Summer Flicker series on Wednesdays in July (July 20 - The Sandlot, rated PG; and July 27 - Ferris Bueller's Day Off, rated PG-13). Attendance is free, but donations for the Hygienic are appreciated. Gates open at 8 p.m. for each of the screenings.