Employee Spotlight on Alex Wetmore and Service in St. Thomas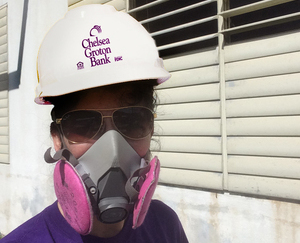 On Christmas Day, Chelsea Groton's Creative Services Specialist, Alex Wetmore, headed to St. Thomas, USVI, to volunteer for five days with the disaster-relief organization All Hands and Hearts. All Hands and Hearts is a US-based, 501(c)(3) volunteer-powered organization, dedicated to 'rebuilding hope' for people impacted by natural disasters.
St. Thomas was hit hard by back-to-back Hurricanes Irma and Maria in September 2017. The island's devastation has been largely overshadowed by the damage and death this year's hurricane season left behind in Florida, Texas, the Caribbean and Puerto Rico. About half of the population on the island still remains without electricity, and about one-quarter of the territory still lacks cellphone service.
During her week of service, Alex "mucked and gutted" a total of 2 1/2 homes. "Muck and gutted" is the term used for clearing all storm surge debris from a homeowner's property, gutting damaged walls, insulation, ceilings, floors, and then hopefully retrieving valuable possessions for the homeowner. After that crucial first step was completed by Alex's 8-10 person team, a second team came in to sanitize the space to get rid of toxic black mold in order to prepare the structure for the rebuild phase.
"I first volunteered with Hands and Hearts back in 2015 as part of their Leyte Typhoon Recovery in the Philippines, after Typhoon Haiyan. What impressed me most about this organization is their commitment to stay and help," shared Alex. "Volunteers don't need specific skill sets, just a willingness to work. The team leaders teach you all you need to know. It's a grueling day, but beyond rewarding as the homeowner is usually on site and so thrilled for any type of help."
In addition to Alex helping with relief on the ground in St. Thomas, Chelsea Groton Bank collected dozens of boxes of non-perishable food, medical items, household supplies, baby and children's items, and more, and shipped supplies to St. Maarten to help in their relief efforts.
To learn more about All Hands and Hearts Smart Response, please visit https://www.hands.org/.