Spread the Love this Winter with Chelsea Groton Bank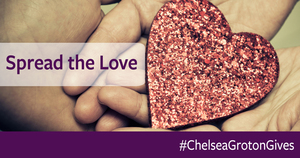 Chelsea Groton Bank has a history of giving to the community through the Chelsea Groton Foundation, Dress Down for Charity days, Acts of Kindness, and partnerships. This winter we are relying on community members to tell us which community partner should get a donation next. Throughout January and February, Chelsea Groton Bank will spread the love to a local non-profit organization that community members nominate and vote on.
The Bank launched the "Spread the Love" Facebook campaign in the beginning of January, where community members were invited to nominate their favorite local non-profit organization to be in the running. Until January 31, fans of the Chelsea Groton Bank Facebook page may write in the non-profit of their choosing in the comment section of the "Spread the Love" post.
"Within the first week, the 'Spread the Love' post had been shared over 100 times, with hundreds of comments coming in supporting youth programs, animal rescue groups, and social service agencies," said Lori Dufficy, EVP, Director of Sales and Service. "We love seeing the support of local agencies that are making a difference in the communities where we all work and live."
At the end of January, the top non-profits nominated the most times under the "Spread the Love" post will move on to the second round of voting. During the month of February, community members will vote in person at the Center Groton Branch for the non-profits who had been nominated the most times. A donation will be presented to the winning non-profit organization in March.
Be sure to share the Chelsea Groton Bank Facebook page with friends so they too can help #SpreadTheLove this winter.