Chelsea Groton Foundation Awards Over $170K
in Grants to Area Organizations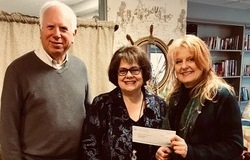 The Chelsea Groton Foundation awarded $171,247 in grants to 89 non-profit organizations from Connecticut and Rhode Island this fall. This dollar amount marks the greatest total awarded to area organizations in a single giving cycle since the Chelsea Groton Foundation was founded. Inclusive of these donations, the Foundation has provided over $2.6 million in total grants to the community since 1999. The Foundation reviews applications and awards grants two times per year.
Chelsea Groton Bank's gift of a $5 million endowment to the Chelsea Groton Foundation in December 2016 enabled the Foundation to provide a greater level of financial support to organizations that impact our region in the areas of health, human and social services; education; economic development; and arts and culture.
"As a community bank, one of our most important responsibilities is to help improve the overall quality of life in the region," said Michael Rauh, President and CEO of Chelsea Groton Bank. "Through the Foundation's increased endowment, we have been able to support more non-profits than ever before, at a time when they are in great need of our help. These organizations work tirelessly to provide education, alleviate hunger and homelessness, improve healthcare, support economic growth, deliver arts and cultural experiences, and more. We are so grateful for the work they do, and to be able to support them with grants from the Chelsea Groton Foundation."
Fall grant awards included: $1,000 to Children First Groton to buy books for one year of the "Prescription to Read" program; $2,500 to FRESH New London to fund summer stipends for 10 New London teenagers who will care for urban farming sites, public fruit trees and community gardens; $3,500 to H.O.P.E. Inc. to fund a nine-week series of free home repair workshops for low income first time homeowners; $5,000 to MALTA to purchase food, toiletries, clothing and to maintain the Transitional Living Center; $1,000 to Nutmeg Big Brothers Big Sisters to help fund the Foster Grandparents Program in New London, Norwich and Willimantic; and $5,000 to St. Vincent de Paul Place in Norwich to purchase food and necessities for the "Served Meals" program.
Each year, Chelsea Groton Bank and the Chelsea Groton Foundation support more than 200 local organizations through monetary gifts, grants, sponsorships, scholarships and employee volunteerism. More information, including a list of all fall grant recipients, is available at chelseagroton.com.
About the Chelsea Groton Foundation
The Chelsea Groton Foundation was formed in June 1998 as a Section 501(c) (3) organization. Initially endowed with a $2 million donation from Chelsea Groton Bank, and recently gifted an additional $5 million from the Bank, the Foundation has, to date, awarded over $2.6 million in grants to hundreds of scientific, educational and charitable organizations located within the Bank's market area. To learn more, visit:
https://chelseagroton.com/OurstrongCommunitystrong/ChelseaGrotonFoundation.aspx .