Escrow Payments – Why They Increase & What to Do About It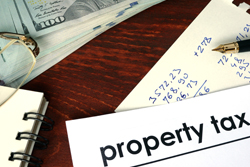 Many towns in the State of Connecticut are facing budget uncertainty. This uncertainty is largely related to the lack of a State budget coupled with significant decreases in the amount of funding typically provided by the State of Connecticut. In order to make up for shortfalls in state funding to the towns, towns have suggested it may be necessary to adjust real estate property taxes and either issue a supplemental bill or adjust the January 2018 amount due accordingly.
What is Escrow?
Chelsea Groton Bank, like most servicers, requires most borrowers to have an escrow account, which is an account that a servicer controls on behalf of a borrower to pay taxes, insurance premiums (including flood insurance), or other charges with respect to a federally related mortgage loan, including charges that the borrower and servicer have voluntarily agreed that the servicer should collect and pay.
Why is my escrow payment changing?
Escrow accounts go through a yearly escrow analysis with a payment adjustment date of September 1st. Borrowers are mailed a copy of their Annual Escrow Account Disclosure Statement each year when the account goes through escrow analysis. The analysis determines whether a shortage, surplus or deficiency exists.
A shortage occurs if the borrower's escrow account falls below the target balance. This could occur if property taxes increase, for example. Repayment of a shortage is spread over the following escrow computation period of 12 months.
A surplus occurs if you have additional funds in your escrow account above the target balance. If a home is assessed at a lower value than its prior assessment, taxes could go down, which may result in a surplus in an escrow account. The surplus must be returned to the borrower unless it is less than $50, in which case the servicer credits it against the coming 12 months' escrow payments.
A deficiency occurs if the borrower's escrow account falls below $0. Repayment of a deficiency is spread over the following escrow computation period of 12 months.
Next Steps with Escrow
Borrowers have the option to pay any shortage and/or deficiency in a lump sum prior to making the September 1st escrow payment, or a borrower can pay it over the coming twelve months. Borrowers are not charged interest on a shortage or deficiency. In the event a borrower decides to pay the shortage and/or deficiency, the monthly escrow payment would be reduced to the base escrow payment listed on the first page of the Annual Escrow Account Disclosure Statement. Increases or decreases to any escrow item will be reflected in the following year's escrow analysis.
In the current state of uncertainty, while borrowers are not permitted to deposit extra funds into an escrow account, borrowers can save money in a separate account, for the purpose of paying any future escrow shortage and/or deficiency calculated during the next escrow analysis. Although borrowers are not penalized for spreading any shortage and/or deficiency over 12 months, borrowers are ultimately responsible for the monthly payment due, including any increases in the escrow payment. Beginning to save now can help lessen the possible financial burden these increases may cause in the future.
If you have questions about your property assessment, contact your local tax assessor. If you have questions regarding homeowners insurance, contact your insurance agent. For more details about escrow, visit our Resource page. If you have a residential mortgage with Chelsea Groton Bank and have any questions regarding your escrow account, please contact Chelsea Groton Bank's Loan Servicing Department at 860-448-4114.