Chelsea Groton Gives
Chelsea Groton Bank is giving back to the community this Fall in a couple of ways.
Hurricane Relief Drive
Chelsea Groton Bank is holding a collection drive at all of our branches to help with hurricane relief efforts. Sadly, many of our teammates have family members impacted by the recent hurricanes and we want to support the relief efforts in those areas. We're inviting teammates, customers and friends to assist us in bringing in items for the collection. We are taking canned goods and non-perishable foods, medical items, household supplies, baby and children's items, feminine healthcare products and other miscellaneous items that may be needed. The drive, initially slated to end October 31, will be extended until November 9.
"To have my employer, Chelsea Groton Bank, host this drive on behalf of myself and other employees whose families were impacted by the hurricanes, means everything to me," said Alyssa Bryan, Senior Direct Banking and eCommerce Representative. "And to have the communities of our Branches participate and donate speaks volumes about the kindness and compassion of our customers."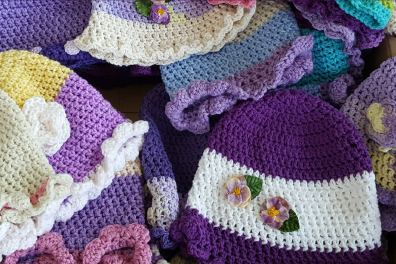 Complimentary Chemo Caps
Another contribution to the community comes from a Branch Manager's mother, who spent her summer crocheting "chemo caps" to be given out to customers who may be in need or who know of someone in need of some extra care and comfort due to cancer treatment. Dana Chapel's mom got the idea from a friend in Florida who was crocheting hats for a cancer center in Canada. She helped her friend make the hats and when she returned to Connecticut, started making hats to hand out at Chelsea Groton. She even incorporated Chelsea Groton's purple color into each of the caps! She has made 58 so far, which are in all of our Chelsea Groton Bank branches, except Mystic Auto Bank Express, and plans to keep crocheting more throughout the winter.
Chelsea Groton Bank employees are no strangers to giving back to the community. The Bank's vision for 163 years has been the partnership in the long-term growth of our community. Our employee's contributions to the community go above and beyond to enrich the lives of so many. In 2016 alone, employees donated over 7,000 volunteer hours in the community. Chelsea Groton Bank truly cares about its customers and the communities they serve.