Is it a Renovation? Or a Reinvention?
As many of you now know, Chelsea Groton Bank is beginning to undergo a reinvention, starting at the Bank's Center Groton branch. Construction began last week on a whole new type of bank branch, as Chelsea Groton develops a brand new way to help people achieve their goals.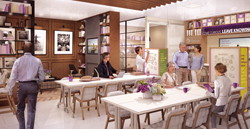 Chelsea Groton knows that managing your finances is more complex than ever. This reinvention is the culmination of a years-long journey to make everything about banking easier, more approachable, and even more valuable to your life. What if a branch were more than just a place to go to for transactions and account maintenance? What if it were somewhere where you could learn to feel confident, comfortable, and excited about your financial future? What if it were a place to learn more about making the most of your money, and get advice about how to achieve your goals? A gathering place for people who want to grow and share, with areas for meetings and closings, seminars and events (or just to sit and decompress)? What if it were welcoming, with a hospitality area, a coffee bar, and a teller line that's actually user-friendly?
The what-ifs are about to become reality. Our goal is to keep the Center Groton branch open during most of the construction process. You can stay up-to-date on the whole project by stopping by to check out our progress, visiting chelseagroton.com/reinvention, or feel free to call 860-448-4200 with any questions.