Chelsea Groton Bank Presents Scholarships to 16 Rising College Students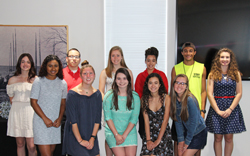 Chelsea Groton Bank recently presented scholarships to a select group of graduating seniors who represent 16 area high schools. Each of the individuals who applied for the scholarships excelled in academia, leadership and extracurricular activities during their high school years, and plans to pursue college degrees.
"As a community bank, we are committed to investing in the next generation of young adults, and supporting them as they work to achieve their goals," said Michael Rauh, President & CEO of Chelsea Groton Bank. "The scholarship recipients are a distinguished group of students with bright futures ahead of them. We wish them the best as they pursue their college education."
The 16 recipients of $500 scholarships were: Sarah Billis of The Williams School; Donovan Davino of Wheeler High School; Teagan Driscoll of Stonington High School; Hailey Gordon of Marine Science Magnet High School; Amanda Lumpkins of Norwich Free Academy; Jordan Mailly of Glastonbury High School; Samantha Martinez of New London High School; Jeremiah Pedraza of Ella T. Grasso Southeastern Technical High School; Katie Pescatello of Norwich Technical High School; Zoe Pierce-Olhson of Ledyard High School; Daniel Rubio-Ejchel of East Lyme High School; Natalie Schafer of Fitch Senior High School; Chloe Sherman –Watson of Science & Technology Magnet High School; Nikolas Strickland of Montville High School; Mya Verraheault of Griswold High School; and Shana Wilson of Westerly High School.
Students interested in applying for a scholarship next year should visit their school guidance office to learn more about the program and to pick up an application.