Vegan Sweet Potato Burritos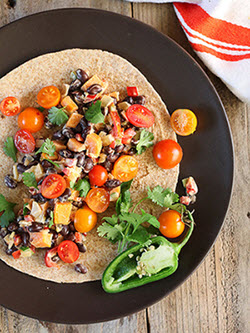 Ingredients
12 10-inch whole-grain tortillas
6 cups of assorted canned beans (black, kidney, pinto)
4 medium sweet potatoes (mashed)
4 teaspoons mustard
4 cloves of garlic (diced)
3 tablespoons chili powder
3 tablespoons soy sauce
2 teaspoons ground cumin
1 tablespoon vegetable or olive oil
1 onion (diced)
cayenne pepper (to taste)
Toppings (if desired):
8 ounces shredded vegan cheddar cheese (or dairy replacement)
chopped lettuce
diced tomato
Directions
Preheat the oven to 350 degrees F.
Heat oil in a medium skillet then add diced onion and garlic. Sauté until soft.
Mash the assorted beans into the onion/garlic mixture.
Gradually stir in 2 cups of water and heat until warm (2-3 minutes).
Remove the mixture from heat and stir in soy sauce, chili powder, mustard, cumin, and cayenne pepper.
Spread the mashed bean mixture and sweet potatoes evenly between the tortillas.
Add any desired toppings.
Fold tortillas around the fillings (burrito-style) and place on baking sheet.
Bake in the preheated oven until center is warm, approximately 15 minutes.
Submitted by:
Lillian Cook
Marketing & Communications Intern
Chelsea Groton Bank