When is the last time you thought about retirement?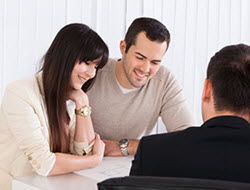 If asked where you'd like to go on your next vacation, you probably have a few places in mind. Whatever the rationale for the destinations you name, you're able to say them with conviction since it's something you've thought about, talked about, and even spent time researching.

If asked about retirement, you may have dreams about no longer working full time, but you probably haven't thought in much detail about where you'll be financially, or the steps you should take to get there.

At least one time per year, retirees and pre-retirees (age 40-plus) should meet with a financial advisor to discuss saving for their future or maximizing current income. The advisors at Chelsea Groton Financial Services would ask you to answer questions and provide documents such as mortgage statements, current investments, tuition costs, and weekly spending, which help tell the story of your current financial situation. Sitting down with a financial advisor to discuss spending, savings, and anticipated retirement income will allow you to see the whole picture, which can be eye-opening.

Investments with Employers
Many Americans switch employers throughout their careers. Often times, they either forget about the retirement savings accounts held with the previous employer once a job change is made, or no longer check in on those investments on a regular basis. According to BenefitsPRO.com, there were "15 million orphaned 401(k) accounts representing more than one trillion in investment dollars that littered the financial landscape in 2010." If you are guilty of not keeping tabs on the 401(k) you used to contribute to with a previous employer, a financial advisor can help identify the investments and assets you have, and potentially consolidate them to make it more manageable.

There are many publicly traded companies that match 401(k) contributions with employer stock. While employed, having ownership of that stock can symbolize loyalty to the company. However, once you retire or move to another company, being fully invested in a single stock adds unnecessary risk. A financial advisor can work with you to decrease that risk and develop a portfolio that can meet your goals and risk tolerance as you grow older and more dependent on that income.

Social Security
Another component to be mindful of when planning for retirement is Social Security. There are many changes to Social Security that current and future beneficiaries should be aware of, and there will be more changes to come in the future. Beneficiaries could be affected by a rise in Social Security tax bills, increases in retirement age, and changes in benefits for those still working in 2017. An important first step to take is to register at www.SSA.gov to understand when to file and approximately how much you will receive. A financial advisor will take your Social Security benefits into account when working with you to create or maintain a retirement plan.

A Holistic Approach
The advisors at Chelsea Groton Financial Services take a holistic approach to planning, discussing each insurance and investment product option that could suit your needs, as well as how taxes may impact* your retirement income. Perhaps it's the right time to consider bringing some of the investments made with a previous employer over to an IRA.** Or, maybe it's time to have an advisor review the holdings you have to make sure they are still in line with your goals.

It's important to have investments properly allocated to support short- and long-term goals, and the first step in doing so is by knowing what you currently have.

About Chelsea Groton Financial Services
Investment and insurance products and services are offered through INFINEX INVESTMENTS, INC. Member FINRA / SIPC. Chelsea Groton Financial Services is a trade name of Chelsea Groton Bank. Infinex and the Bank are not affiliated. Products and services made available through Infinex are not insured by the FDIC or any other agency of the United States and are not deposits or obligations of nor guaranteed or insured by any bank or bank affiliate. These products are subject to investment risk, including the possible loss of value.

*We do not provide tax advice. Consult your tax advisor.
**Available alternatives may include retaining the funds in the former employers' plan, transferring to a new employer's plan, rolling over to an IRA, or cashing out.