Easiest Ever Pumpkin Soup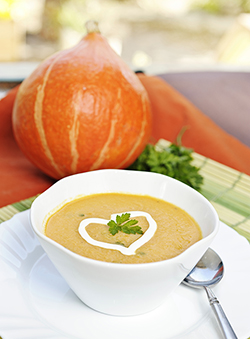 SERVES: 4 (8 cups total)
Ingredients
1 medium onion, grated on a box grater
2 tablespoons olive oil
1 (29-oz.) can pure pumpkin
2 (14.5-oz.) cans chicken broth (or 4 cups)
1/2 cup heavy cream
2 teaspoons pumpkin pie spice
3/4 teaspoon salt
Directions
Heat olive oil in a saucepan over medium-high heat. Add the onion and cook, stirring, 3 minutes or until soft.
2 tablespoons olive oil
Stir in the pure pumpkin, chicken broth, cream, pumpkin pie spice, and salt and cook, stirring occasionally, 3 minutes or until soup simmers.
Ladle into bowls and top as desired. Store leftover soup in an airtight container in the refrigerator for up to 3 days.
Submitted by:
Elaine Brunelle
AS, Branch Manager
Waterford