Chelsea Groton Bank Named A Top Workplace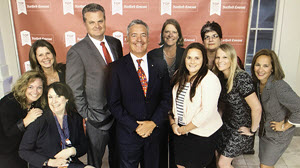 Chelsea Groton Bank was awarded a 2016 Top Workplaces honor by The Hartford Courant. The Top Workplaces lists are based solely on the results of an employee feedback survey administered by WorkplaceDynamics, LLC, a leading research firm that specializes in organizational health and workplace improvement. Several aspects of workplace culture were measured, including alignment, execution, and connection, to name a few.

"The Top Workplaces award is not a popularity contest. And oftentimes, people assume it's all about fancy perks and benefits," says Doug Claffey, CEO of WorkplaceDynamics. "But to be a Top Workplace, organizations must meet our strict standards for organizational health. And who better to ask about work life than the people who live the culture every day—the employees. Time and time again, our research has proven that what's most important to them is a strong belief in where the organization is headed, how it's going to get there, and the feeling that everyone is in it together." Claffey adds, "Without this sense of connection, an organization doesn't have a shot at being named a Top Workplace."

"We are honored to be recognized as a Top Workplace," said Anne Wilkinson, SVP, Director of Human Resources at Chelsea Groton Bank. "At Chelsea Groton, we put great consideration into determining initiatives and benefits for our team members, and we take pride in knowing that our employees feel they are a part of a very positive work culture, one where everyone's contributions are valued and are viewed as an essential part of the current and future successes of Chelsea Groton Bank."

Chelsea Groton has worked to establish an open dialogue between branches and departments. A video phone system as well as twice-annual staff meetings help foster a relationship between employees who may not be based at the same location. While Chelsea Groton offers traditional benefits, the Bank also provides employees the opportunity to partake in a variety of continual education programs, including options for in-person and online courses taught by industry, state and national organizations, and participation in a manager training program. Chelsea Groton launched a wellness program designed with incentives to track and challenge employees in physical, mental, and financial well-being. Community volunteerism, donations and supply drives have also always been a driving factor in bringing employees together.

"For years, I've emphasized that it's not always about growing bigger, but rather growing better, every day," said Michael Rauh, President & CEO of Chelsea Groton Bank. "One of the ways we are able to continue to grow better as an organization, is to ensure our team feels valued, respected, and challenged. We are proud to support the non-profits that are most important to our employees, to volunteer together in the community, and to offer employees opportunities for continual education and wellness programming."

"We are excited to accept the Top Workplaces honor from The Hartford Courant, and are thrilled to receive affirmation that the programming we have in place is having a positive effect on our team members," continued Rauh. "It's our team, after all, who makes Chelsea Groton what it is today."

To learn more about career opportunities at Chelsea Groton, visit:
https://www.chelseagroton.com/Home/DiscoverChelseaGroton/JoinOurTeam.aspx.