Baked Pumpkin Cream Cheese French Toast
Ingredients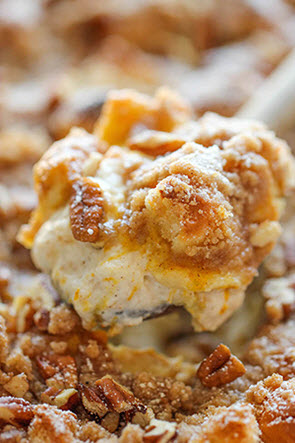 French Toast:
3/4 cup milk
1/2 cup pumpkin puree
3 large eggs
2 tsp. pumpkin pie spice
1 tsp. vanilla extract
1 (12 count) package King's Hawaiian Sweet Dinner rolls, cubed
Cream Cheese Filling:
8 oz. cream cheese, room temperature
1/3 cup confectioners' sugar
3/4 cup cool whip
1/4 tsp. ground cinnamon
Crumb Topping:
1/4 cup all-purpose flour
1/4 cup brown sugar
1/2 tsp. cinnamon
1/4 cup unsalted butter, cut into cubes
1/4 cup chopped pecans
2 tbsp. confectioners' sugar
Instructions
Prep the night before and bake right before serving.
Using a paddle attachment or hand mixer, beat cream cheese, sugar and cinnamon until light and fluffy, approximately 2-3 minutes; set aside.
In a large glass bowl or measuring cup, whisk together milk, pumpkin puree, eggs, pumpkin pie spice and vanilla.
Lightly coat a 9X13 baking dish with nonstick spray. Place a layer of bread cubes evenly into the baking dish. Pour half of the pumpkin puree mixture evenly over the top. Spread cream cheese filling in an even layer. Top with remaining bread cubes and then the remaining pumpkin puree to completely cover the cream cheese filling.
Cover and place in refrigerator for at least 2 hours or overnight.
When ready to bake, preheat to 350 degrees.
To make the crumb topping, combine flour, sugar and cinnamon in a small bowl. Add cold butter and toss to coat, using your fingers to work the butter into the dry ingredients until it resembles coarse crumbs. Sprinkle the crumb topping evenly over the top layer of pumpkin puree.
Place into oven and bake for 35-45 minutes, or until golden brown.
Sprinkle with pecans and confectioners' sugar, if desired.
Serve and enjoy!
Submitted by:
Kristen Scott
Branch Manager
Center Groton