Chelsea Groton Bank Presents Scholarships to 16 Rising College Students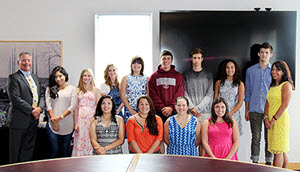 Chelsea Groton Bank recently presented scholarships to a select group of graduating seniors who represent 16 area high schools. Each of the individuals who applied for the scholarships excelled in academia, leadership and extracurricular activities during their high school years, and plans to pursue college degrees.

"Part of our responsibility as a community bank is to help educate the next generation of young adults so they can continue to strengthen our region in the future," said Pam Days-Luketich, AVP, Community Outreach Officer for Chelsea Groton Bank. "The scholarship recipients are an impressive group of students with bright futures ahead of them. We wish them well as they pursue their college education."

The 16 recipients of the $500 scholarships were: Savannah Byron of East Lyme High School; Arrianna Reyes-Suarez of Fisher's Island School; Justin Marceau of Fitch High School; Mirella Calle of Grasso Technical High School; Sarah Lyn Houle of Griswold High School; Andrew Zemantic of Lyman Memorial High School; Katelyn Banta of Montville High School; Andrew Souza of New London High School; RI Cheng Fend (Brian) of Norwich Free Academy; Alyssia Rathbun of Norwich Technical High School; Emily De La Cruz of St. Bernard High School; Thomas Mann of Stonington High School; Anastasia Amodeo of Waterford High School; Emily Pereira of Westerly High School; Samantha White of Wheeler High School; and Shannon Demers of The Williams School.

Congratulations to all our scholarship applicants and winners, and best of luck in college!