The American Bankers Association Foundation
and Chelsea Groton Bank Celebrate American Housing Month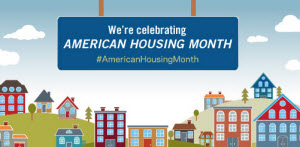 In recognition of American Housing Month, the American Bankers Association (ABA) Foundation and banks across the country, including Chelsea Groton Bank, are providing consumers with information on preparing to purchase a home throughout the month of June.

"It is our hope that by providing people with the right resources and support, more members of our community will be educated on the necessary components that are required to qualify for a loan, and can soon achieve their goal of home ownership," said Pam Days-Luketich, AVP, Community Outreach Officer at Chelsea Groton Bank.

Affordable housing is a major concern for all towns in Southeastern Connecticut, according to a recent Community Needs Assessment conducted by GeoDataVision. In an effort to make homeownership possible for more people, Chelsea Groton Bank has teamed with a number of government agencies to offer lending options for first-time homebuyers and those who qualify for affordable lending programs. To learn about the Bank's extensive offering, visit our website or call 860-448-4174. Chelsea Groton offers complimentary community education classes year-round to help consumers with budgeting, improving credit scores, and home-buying, each of which are important topics when preparing to purchase a home. For information on upcoming classes, or to schedule a class for a specific organization, visit our Community Education page.

In addition, Chelsea Groton Bank is hosting a contest on the Bank's Facebook page throughout the month of June to support an affordable housing organization. To participate, "like" the Bank on Facebook, and then mention your favorite affordable housing organization in the comment section below one of the American Housing Month posts. At the end of the month, the organization that is mentioned the most times under the housing posts will receive a donation from Chelsea Groton if the Bank reaches 1,000 likes! You must "like" the Bank's Facebook page in order to have your nomination count, and each person can only nominate one housing organization, one time.

For additional resources provided by the ABA Foundation, including tips on saving for a down payment, learning the size mortgage you can afford, and if you should rent or buy, visit the ABA's webpage on Housing How-To's.