Sweet BBQ Chicken Kabobs
Serving Size: 18-20 skewers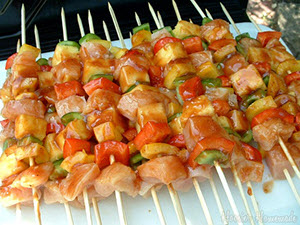 Ingredients
1-2 lbs. boneless skinless chicken, cut into chunks
1 whole fresh pineapple, cut into chunks
1 red, 1 yellow and 1 green pepper
1 cup BBQ sauce
6 tablespoons of orange juice concentrate, thawed
Directions
Soak wooden skewers in water for 15-20 minutes.


Thread chicken, peppers and pineapple onto skewers.


Mix BBQ sauce and orange concentrate in a small bowl.


Preheat grill to medium-high.


Brush half of the sauce onto skewers before cooking.


Grill 8-10 minutes or until chicken is cooked, turning occasionally.


Brush the remaining sauce onto skewers during cooking.


Serve while hot.
Submitted by:
Matt Mainville
Marketing Intern