Chelsea Groton Bank Employees Recognized for Outstanding Contributions to Bank, Community and Excellence in Education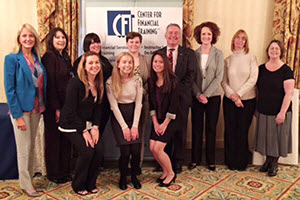 Chelsea Groton Bank recently recognized five employees for outstanding contributions to the Bank and community. Nineteen team members were also presented with diplomas, certifications and awards for excellence in completing continual education courses.

Chelsea Awards and George Strouse "Spirit" Award
The Chelsea Award is presented each year to individuals with exceptional performance in the areas of sales, initiative and customer service. This year, Jennifer Eastbourne, Financial Services Program Coordinator; Becky Jacoinski, Benefits and Wellness Administrator; Lisa Price, Retail Lending Administrator; and Bonnie Stanford, Assistant Branch Manager of the Bank's Niantic location were presented with the Chelsea Award. The George Strouse "Spirit" Award, which pays tribute to George Strouse, former Executive Vice President, Chief Financial Officer and member of the Board of Trustees, was presented to Denise Stapienski, AVP, Training Manager. It is awarded annually to employees who embody, and consistently demonstrate, the values and spirit of Chelsea Groton Bank through leadership, attitude and community service. For more about the Chelsea Award and George Strouse "Spirit" Award winners visit our website.

Employees Graduate from CT School of Finance and Management
Elaine Brunelle, Assistant Secretary, Branch Manager of Chelsea Groton's Waterford branch; Kelly Meakem, Cash Management Services Specialist; and Sonya Mis, Assistant Secretary, Training Specialist, recently graduated from the Connecticut Bankers Association's Connecticut School of Finance and Management (CSFM). Sonya was recognized with the Michael J. Piette Honors Award, an award presented to students in the top 10% of each graduating class. Learn more about the CT School of Finance and Management and the achievements of our employees here.

Employees Honored by Center for Financial Training
The Center for Financial Training (CFT) recently honored 16 Chelsea Groton Bank employees – Kelly Allard, Elaine Brunelle, Joanne Cain, Laurie Davis, Dawn DeCristofaro, Dee Houde, Kerri Johnson, Teri LaBranche, Stacey Melia, Matt Morrell, Elizabeth Owen, Donna Parrotte, Nicole Serra, Judy Stumpo, Lori Dufficy, and Marielle Winkelman– during the annual graduation and awards ceremony. For more information on the awards and certifications that were presented to Chelsea Groton team members, visit our website.