Joining the "March Madness"
How to have fun with college basketball's biggest event

It's that time of year. Tournament brackets are circulating around in office pools, and water cooler talk is bubbling with excitement. For three action-packed weeks, 68 teams will face off for what is now a 76-year tradition: college basketball's national championship.

They don't call it March Madness for nothing.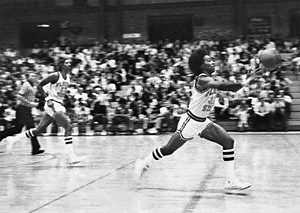 For avid college basketball fans, March Madness is the most exciting time of the year as college basketball's top teams face off in sudden death games in the hopes of advancing toward the prestigious national championship. But with all the "hoopla," endless televised games and media coverage, what's a non-college basketball fan to do?

Well, there's an old saying that applies: "If you can't beat them, join them." You don't have to be a college basketball fanatic to get caught up in the excitement and thrill of March Madness. In fact, you can turn March Madness into a fun and welcome event in your home and a reason to bring friends and family together.

Make it a game for the whole family.
Families are always looking for fun activities and games to do together. Why not use the madness to bring your family together? You can start by having family members fill out the brackets with their predictions for the games. Brackets, which list all the teams in the tournament, will be announced on Sunday, March 15, also known as Selection Sunday. You can obtain printable copies of the brackets online. When the games begin on March 17, 2015, gather the family together to watch the games. Keep score of who has made the most accurate predictions and post the results for all to see. To sweeten the pot, offer prizes to the person who correctly picks the most games or selects the national champion.

Have a Madness party.
For even more fun, consider inviting friends and family members over to your house to watch the games. You can ask your guests to fill out their brackets. With so many games, you'll have plenty of opportunities to pick a party date.

Here's the schedule of events.

First Round March 17-18 UD Arena (Dayton, Ohio)


Second-Third Rounds
March 19, 21
Veterans Memorial Arena (Jacksonville, Fla.)
KFC Yum! Center (Louisville)
Consol Energy Center (Pittsburgh)
Rose Garden (Portland, Ore.)

March 20, 22
Time Warner Cable Arena (Charlotte, N.C.)
Nationwide Arena (Columbus, Ohio)
CenturyLink Center (Omaha, Neb.)
KeyArena (Seattle)

Midwest Regional
March 26, 28 Quicken Loans Arena (Cleveland)

West Regional
March 26, 28 Staples Center (Los Angeles)

South Regional
March 27, 29 NRG Stadium (Houston)

East Regional
March 27, 29 Carrier Dome (Syracuse)

National Semifinals
April 4 Lucas Oil Stadium (Indianapolis)

Championship Game April 6 Lucas Oil Stadium (Indianapolis)

Let the fun and games begin! With a little creativity and inspiration, you may just find yourself doing something you probably thought you would never do — looking forward to Madness.