Butternut Squash Soup
with Apple and Ginger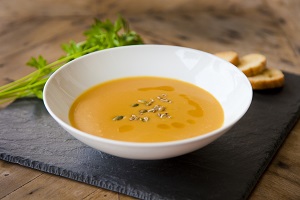 Ingredients:
2 Tbsp. olive oil
1 sweet onion, chopped
1 carrot, peeled and chopped
2 celery stalks, chopped
1 butternut squash, peeled, seeded and diced
2 cloves garlic, chopped
1 Tbsp. freshly grated ginger
1 apple, peeled and chopped
5-6 cups chicken broth, depending on desired consistency
Salt and pepper to taste

Method:
Heat oil in a large pot at medium heat.
Sauté onion, carrot, and celery until onion begins to soften and brown.
Add butternut squash, garlic and ginger, stirring for one minute.
Add apple, chicken broth, thyme, salt and pepper. Stir.
Bring soup to a boil, reduce heat to low, and simmer for 30-35 minutes.
Allow the soup to cool, and using a blender or immersion blender, puree to desired consistency.