A Thyme to Cook's Scallop Crudo with
Tangerine Honey Mignonette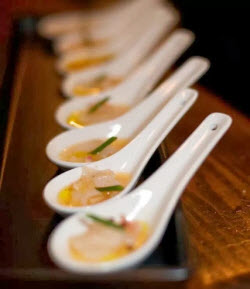 For Mignonette:
1/2 cup unseasoned rice wine vinegar
1/4 cup minced shallots
1 Tbsp. minced radishes
1 Tbsp. Honey
Juice of 1 Tangerine
Salt and pepper to taste

Whisk ingredients together, set aside.

For Scallops:
4 oz. Raw Scallops*

When preparing, slice thinly, keeping round shape. Place one to two slices in porcelain spoon and drizzle with mignonette. Add a few drops of extra virgin olive oil and garnish with chives. Serve immediately...

A Thyme to Cook uses local Bomster scallops, which have an amazing sweetness to them, but feel free to try various shellfish, as the Mignonette will work with any scallop, oyster or clam. Keep chilled until ready to serve.
*Consuming raw seafood poses a health risk, especially to the elderly, children, pregnant women, and other highly susceptible individuals with compromised immune systems. If unsure, consult your doctor prior to consumption. The cooking of such food reduces the risk of illness.
A Thyme to Cook loves food – fresh, local, flavorful and sustainable. Founded by Linda Sample over 29 years ago, A Thyme to Cook is an award winning, full service caterer serving Connecticut and Southern New England.