5 Answers to Difficult Interview Questions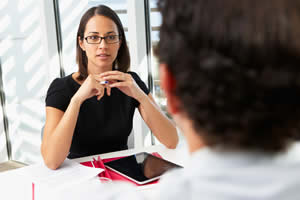 Ask any job hunter and they will tell you; it's competitive out there. With recruiting managers flooded with resumes from qualified candidates, a job seeker can feel good about just being invited in for an interview.
If you are fortunate and qualified enough to land an interview, it's critical that you make the most of it by doing a little pre-planning. One way to prepare is to anticipate and plan your responses to interview questions. While the particular questions posed during an interview may vary depending on the type of position and employer, there are some questions that are common to interviews. Here are five such questions as well as some appropriate responses:
Tell me about yourself. It may not be phrased as a question, but it is something that requires a well-thought-out response. When posed with such an open-ended question, many people often ramble with their responses. Prepare yours in advance and address the following: your background or early history, work history, education, and most recent experience. Try to limit your response to a few minutes and DO NOT over share details of your personal life.


Why are there gaps in your employment? Given the competitiveness of the workforce, it's not uncommon for people to have gaps in their work histories. You may have spent your time searching for a job or spending time caring for a loved one. Prior to your interview, be sure to make a list of the tasks you accomplished during your time between jobs and to share those accomplishments with the interviewer.


What's your biggest weakness? Everyone has a weakness, so never pretend that you don't have one. This question actually gives an interviewer the opportunity to gauge your awareness of yourself. Try to be specific in your answer and to talk about how you work on resolving your weakness.


What are your salary requirements? You could be having a stellar interview and then the question of salary arises, which if not answered carefully, can knock you right out of contention. If you can, try to avoid bringing up salary in your interview. If the employer asks you about salary, tell them that you would need to learn more about the responsibilities of the job and the entire compensation package. You can also prepare for this question in advance by researching salary ranges for similar positions.


Why did you leave (or do you want to leave) your current job? The biggest mistake you can make with this question is to criticize your previous employer. Whatever the reason you chose to leave your job, be positive in your response. Rather than saying, "My boss was horrible," consider providing positive reasons, such as: "I wanted more opportunity to grow and learn more."
These are just a few of the questions you may be posed. It's a good idea to visit employment sites, such as monster.com to learn more about other tips for interview preparation. Just remember to do your homework, because when it comes to answering the questions; you're on your own — no lifelines are allowed.