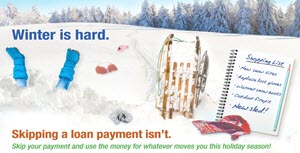 Holiday Skip-A-Pay allows you to skip the December or January payment on your TruPartner loan(s), freeing up that cash for your holiday expenses.

Log into Online Banking and apply to skip your payment using the "Services" tab.

It's that easy!
Don't let Cooler Temperatures Stop You from Finding
HOT DEALS

at TruPartner!

Our car loan rates are HOT – as low as 2.99% APR*.

The Power of Pre-Approval!
Negotiating the price of the vehicle separate from the financing is the best choice!

Work with TruPartner to find the payment that YOU can afford. Walking into a dealership with a guaranteed auto loan knowing what you can spend will give you bargaining power and flexibility. It will also help you avoid the common sales tactic of mixing up the vehicle price with financing costs.

It's easy to apply online at TruPartner!



You get $200 in cash rewards on up to 2 lines when you switch to Sprint. Plus, lines 3, 4 and 5 are free! That means savings of more than $800 over Verizon in your first year. With Sprint's 100% satisfaction guarantee for the first 30 days, you can be certain that you'll love your plan or get your money back.

Click here for more information and to start saving with Sprint.


TruPartner's Financial Advisor partner, Joe Duffey from Everest Financial, will be holding several seminars in November including:

Six Barriers to Investment Success
November 12th Main Office
November 14th LaRosa's on Boudinot

All the seminars are held at 11:45 AM and 6:00 PM and lunch or dinner will be provided.

Click here to register or RSVP to Beth at 513-600-4540.

The credit union will be closed on the following days:
Monday, November 11, 2019 Veterans Day

Thursday, November 28, 2019 Thanksgiving Day

Tuesday, December 24, 2019 Christmas Eve
Offices will close at 1:00 pm

Wednesday, December 25, 2019 Christmas Day

Wednesday, January 1, 2020 New Year's Day

ATMs are always available for your cash needs. For information on finding the locations closest to you, click here.