Credit Card Interest Rates are on the rise!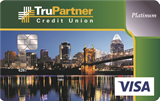 Check out your credit card and see how it stacks up to a TruPartner VISA Platinum card.
Our card offers a non-variable rate and offers cash back!
We guarantee no gimmicks! And, your transactions are easy to track through TruPartner's Online Banking.
Keep Your Cell Phone Safe
If you're one of the 58 percent of Americans who own a smartphone, then you probably use it every day. In addition to making calls and sending texts, you might use it for directions, to post to social media, browse the Internet and shop. It's those last few activities that can put your privacy most at risk.
Requiring a password to access your phone is a simple yet effective tool to keep your phone safe. For 10 ways to keep your phone safe click here.

Are you buried in Student Loans?
Student loan debt in the U.S. stands at approximately $1.4 trillion. Many have difficulty paying off their loans or realize that this debt may prevent them from getting other loans to help them buy a home or start a business.
Historically, some workers have been eligible for loan forgiveness. Click here for more information about who is eligible and how to apply.
If you don't qualify, here are some tips
to help pay down student loans.
Use a cash windfall. If you suddenly come across extra money from an inheritance, settlement, or company bonus, use part — if not all – of it to pay down your student loan debt.
Student Loan Forgiveness. Investigate job opportunities with companies offering this option. Certain jobs, such as public service work or teaching, may offer forgiveness for part or all of your student loans.
Pay more. Make more than the minimum payment each month, even if it's only $10-$20. Anything extra will go directly towards the principal, which means less interest owed in the long run.
Refinance. Consolidating and refinancing your loans can help pay off loans faster. TruPartner can help you with your student loan refinancing.
Save the Date!
Join the TruPartner Team in the walk to END ALZHEIMER'S!
At Sawyer Point on Saturday, October 6th
To donate or join our team, click here!

Click here for more information!

Question
Why do some coins have reeded edges?
A) Style purposes
B) Some are defective
C) Due to material type
D) To prevent fraud
Answer:
The dollar, half-dollar, quarter, and ten-cent coin denominations were originally produced from precious metal. Reeded edges were eventually incorporated into the design of these denominations to deter counterfeiting and the fraudulent use of the coins. (Answer D is correct)
Another benefit of a TruPartner
Credit Card!
Beginning next month, we will be holding a monthly drawing for two $100 gift cards. To qualify, just use your TruPartner credit card ten times during the month and you will automatically be entered into the drawing!
Got a question, comment, concern, or a tip you'd like to share? Contact us